Matt Maslowski
Fall-Spice Rubbed Venison Tenderloin with Polenta, Stuffed Sugar Pumpkin, Brussels Sprouts and a Cranberry Port Reduction
Original Event Date, Thursday, November 6, 2014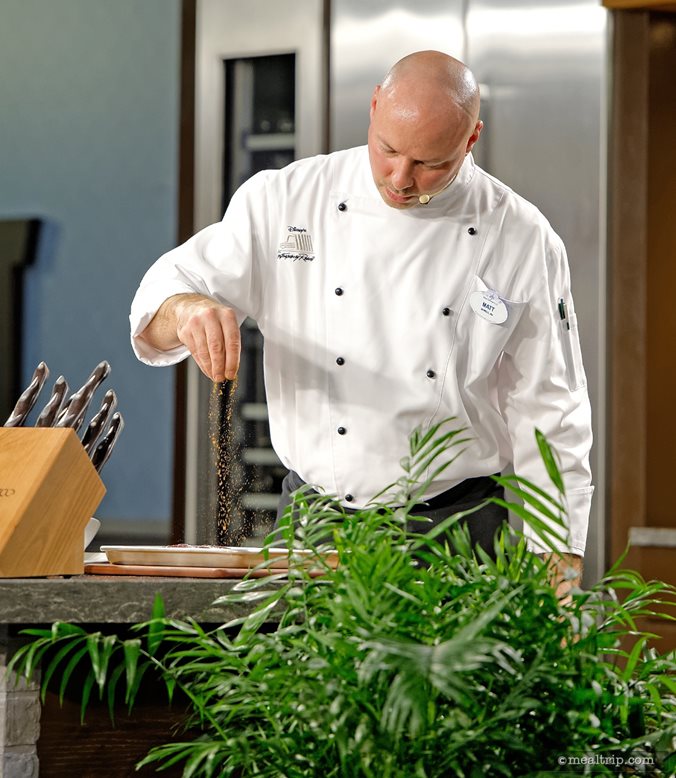 I first met chef Matt Maslowski a couple of years before this 2014 culinary demo, and became an instant fan. I am extremely happy that he's still in the Disney system... and bringing his culinary skill and personality with him.
The world of culinary arts can be a very pretentious place, and even though chef Maslowski's talent might give him a license to act that way... nothing... could be further from the truth.
There are three things that stand out in my mind when you mention chef Maslowski's name.
One… he's never shied away from giving you an honest answer about anything you might ask him.


Two… he has the ability to take some pretty esoteric event concepts and turn them into amazing culinary creations. You'll just have to trust me on that one.


Three… if you give him enough time, he will tell you how to make every damn thing on the plate. It's not just enough that he's making a Cranberry Port Wine Reduction, that gets drizzled on the Venison Tenderloin… he wants to make the Veal Demi Glace, from scratch, that goes in the Cranberry Port Wine Reduction, that gets drizzled on the Venison Tenderloin.

There's not a doubt in my mind that if you gave him enough time, he'd show you how to kiln fire custom made plates and hand weave napkins. It's that kind of attention to detail, that brings multiple levels of goodness to the dishes he creates.
Matt is one of the few chef in the Disney system that I would blindly give $150 to and simply say "I don't care… I know it's going to be amazing".
He's done quite a few culinary demos over the past few years as part of
Epcot's International Food & Wine Festival
… I hope he continues to do them, and I hope that the sometimes safe, mundane normalization of theme park restaurants doesn't diminish his desire to bring complex, detailed, three-page recipe sheets to those demos.
Matt Maslowski

Disney's Contemporary Resort Catering, WDW
Thursday, November 6, 2014 | 5:00pm
THE DISH : Fall-Spice Rubbed Venison Tenderloin with Polenta, Oceanspray® Craisin® Stuffed Sugar Pumpkin, Brown-Buttered Brussels Sprouts, and an Oceanspray® Cranberry - Port Reduction

WINE PAIRING : Valckenberg Undone Pinot Noir, Valckenberg International, Germany

HOST : Chef Frank Brough