Art Smith
Buttermilk Fried Chicken and Waffles with Maple Syrup
Original Event Date, Saturday, October 11, 2014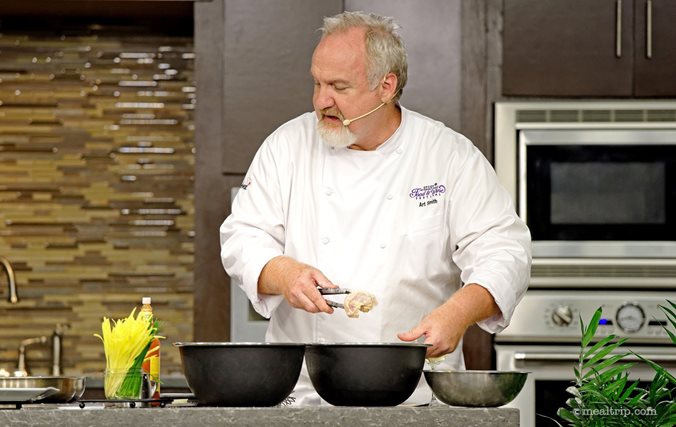 Oh, I've heard it all before... "so and so has the best fried chicken in world"... so I'm always a little skeptical when someone makes that statement. In Chef Art Smith's case though... it's 100% true!!! His fried chicken really is on a different level, and easily an item that you will measure all other fried chickens against! No really... it's true!
Chef Smith brought his fried chicken dish to a 2014 Epcot Food & Wine Culinary Demo and it was simply amazing! Chef Art Smith isn't at the Food and Wine festival every year, so if you happen to see him on the schedule (and can get a ticket), I'm positive you won't be disappointed with whatever he creates!
It used to be... that you could only get Chef Art Smith's Chicken and Waffles at Table Fifty-Two in Chicago, but a version of this entree is kind of available at his Disney Springs location...
Chef Art Smith's Homecomin'
... it's "Chef Art Smith's Chicken on House-Made Doughnuts"... I'm in, let's go!!!
Art Smith

Table Fifty-Two, Chicago, IL
Saturday, October 11, 2014 | 3:00pm
THE DISH : Buttermilk Fried Chicken and Waffles with Maple Syrup

WINE PAIRING : Noble Vines 446 Chardonnay, Noble Vines, Lodi and Monterey, California

HOST :

Pamela Smith, RDN